Desobariers and Wipers for shoes
What is desobariers?
Desobariers are disinfection barriers that separate workspace of space for visitors, customers, business partners and the like.

Whats their function?
Very simply when pass through them running disinfecting shoes, wheels of carts forklift and other vehicles.
Will I have problems with installations?
No! The installation is very easy and quick and it does not need the temporary cessation of your business!
Why?
Therefore it is mandatory protective measure by introducing HACCAP system.
Just because?
Because they bring you safety in hygiene work in warehouses, restaurants, hotels, supermarkets and places where they come in contact with food and beverages.
Be in step with the times, innovation and the law!
Desobariers program is designed as a safety measure and is one of the mandatory measures for introduction of HACCP system and the application:
Food industry
Catering industry
Trade in food products and beverages
Canning industry
Production of non-alcoholic and alcoholic beverages
Milk industry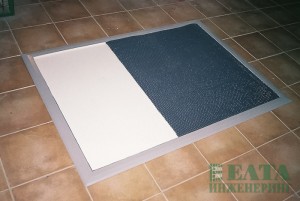 Desobariers consists of aluminum or rubber tub and frame of steel not corrode or be incorporated into the hole under the ceramic tiles bordered with inlaid rubber eraser of 3M in the following variations:
Nomad terra 9100 – for stores where passing trucks and other heavy vehicles,
Nomad terra 8100 – the restaurants, shops and warehouses where they spend walking and lightweight wheelchairs,
Nomad terra 7100 PRACTIC – the restaurants, shops and warehouses where they spend walking and lightweight strollers.
Mounting is fast and easy with four screws and wall-rivets on the floor.
Disinfectants in the domestic production of Alkaloid Skopje: EKOTAL, DIZENTAL, ALKASEPT.
Dimensions of desobariers 
In accordance with the dimensions of space and doors to protect there are several standards:
| | | |
| --- | --- | --- |
| Width  | Length | thickness |
| 600мм Х 900мм | 900мм | 12мм |
| 600мм Х 900мм | 1200мм | 12мм |
| 600мм Х 900мм | 1500мм | 12мм |
As to the needs we produce non standard dimensions.
Wipers for shoes 3M

Wipers for shoes play an important role in the hygiene of your business premises, shops, malls, restaurants and the like.
We offer high quality wipers for shoes in Macedonia from world famous brand 3M.
Setting wipers for shoes is very simple and quick, and set before and after the entry doors. First wipers made ​​of PVC and other wipers are a combination of textile and PVC which quickly dries the shoes of passers.
For public buildings with high frequency of people commonly is used 3M Nomad Terra 6500 and 3M Nomad Aqua 8500.
Ask for offer for your building and we will give you the best quality solution.